Overview
Iration is an alternative/reggae group out of Santa Barbara, CA. Their latest album, Hotting Up, recently debuted #1 on Billboard Reggae. To coincide with the release of the new album, they wanted to build a fan promo while sourcing album feedback.
Using Burner's Soundcloud Connection, Iration were able to set up a phone number that fans could call to leave messages sharing their favorite songs from the new album. The messages would be automatically uploaded to Soundcloud, where the band could review, make a playlist of interesting content, and picks 3 winners of pairs of tickets to an upcoming show.
Launch Dates
Sept 11-14th, 2015
Process
Create a Burner phone number for the desired area code

Personalize the Burner line with a photo and the voicemail greeting with a call to action

Authorize the Soundcloud Connection to the new Burner phone number

Set Auto-upload to Private, so we could preview

Promote the number across social networks inviting users to call & leave voicemails

Users call & leave voicemails; Burner auto-uploads to your account

Review posts, curate a playlist, and post/re-share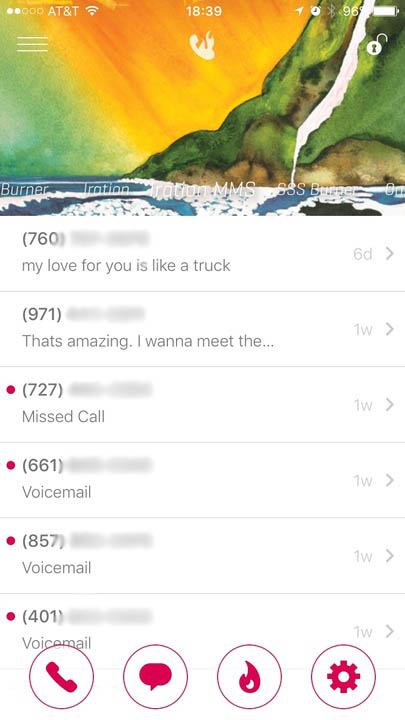 Social Posts (805) 918-5999
Results
The band received 100 quality fan voicemails about the new album. In the process they were also able to get a better understanding of the fan favorites ("Lost and Found," "867," and "Reelin"), which they were also able to combine with other data to build their case for radio play.
("Reelin" is the 1st single off the album currently spinning on multiple radio stations across the country. "867" is actually in position to be the next radio single. "Lost and Found" is the reggae track that they knew would be among the fan favorites.)
The band narrowed down their top 10 fan voicemails to make a Soundcloud playlist, which they of course shared to their fans there as well as through other social media channels.
They also selected three fans to win pairs of tickets to the upcoming shows of their choice.
Collectively, the promotion generated a significant amount of fan content, user insights, audience engagement, and social media reach for a relatively trivial investment of effort and a with a very simple setup.
Iration's Hotting Up Burner Fan Messages - WINNERS
Feedback
Burner Connections for Soundcloud and Dropbox was SEAMLESS and beyond easy to set up and manage. The band set the Burner's ringer to OFF and just watched the notifications come through indicating voicemails and messages uploaded to Soundcloud.
Next Steps
In addition to the Soundcloud Connection, Iration also implemented the Burner Dropbox Connection. The band has all the voicemails saved for archival purposes and also created a folder for the best messages. They will text all the fans back who actually called and left messages (since they have a record them and phone numbers).
Iration are working on the next Burner Soundcloud promos around their upcoming nationwide tour dates.